Dr. Ida Scudder started her work in Vellore with a focus on serving women and children. She soon recognised that the poor couldn't afford to come to the hospital, and the only way she could help them was by going to their doorstep to deliver the care that they so desperately needed. She drove to the surrounding villages on 'Road-side Clinics' and treated her patients under the trees.
One hundred and twenty-two years later, CMC continues to reach out to and partner with local communities around Vellore and Ranipet Districts. From tribal villages in Jawadhi hills to the urban slum communities of Vellore City, CMC's community health teams work on a locally relevant health and development needs.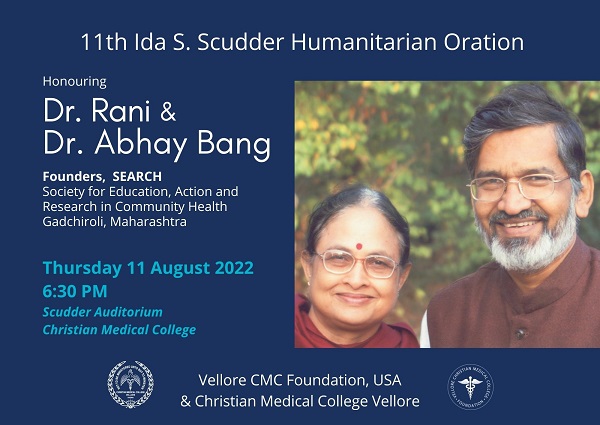 In Dr. Ida's honour, CMC Vellore and the US-based Vellore CMC Foundation have established the Dr. Ida S. Scudder Humanitarian Oration. This year, the 11th Dr. Ida S. Scudder Humanitarian Oration is awarded to Drs. Rani & Abhay Bang, Founders – SEARCH (Society for Education, Action and Research in Community Health) in the tribal forests of Gadchiroli, Maharashtra. Their pioneering community-based health care has influenced policy nationally and internationally, helping to tackle high infant mortality and reproductive health in rural areas. Their commitment and dedication to idealism, social service and scientific research make them inspiring role models.
You can join us online for the 11th Dr. Ida S. Scudder Humanitarian Oration on Thursday 11th August 2022 at 6.30pm IST.