Detect it, Treat it, Defeat it – Breast Cancer Awareness
CMC's Department of Endocrine Surgery shares an important message this October – Breast Cancer Awareness Month.
Breast cancer is the most common cancer among women in India. However, half to two-thirds of women diagnosed nowadays can survive beyond five years and around 80% of diagnosed women can hope for long-term survival.
What causes Breast Cancer?
Breast cancer is caused when the DNA in breast cells mutate or change, disabling specific functions that control cell growth and division. In many cases, these mutated cells die or are attacked by the immune system. But some cells escape the immune system and grow unchecked, forming a tumor in the breast.
Can Breast Cancer be detected early?
Yes, early detection saves lives. Monthly breast self-examination is the first step. The most common sign is a painless lump in the breast.Unfortunately, many women think 'If it's not painful, it can't be serious'. Don't panic if you feel a lump or change in your breasts but please get it checked by a doctor. Depending on your risk factors for breast cancer, they may test further with a mammogram, ultrasound or biopsy.
What is the treatment for Breast Cancer?
Depending on the type of cancer and how far it has spread, breast cancer is treated by surgery, chemotherapy, hormone therapy or radiation. The treatment period can last for about six months. Many women are back to normal within a year. Patient support groups and Survivors Meetings are a powerful source of encouragement, answers, and strength.
With awareness, early detection and appropriate treatment, you can hope to overcome the beast of breast cancer! This October, RISE UP and join in spreading awareness about breast cancer – detect it, treat it, defeat it.
Help Us Beat Cancer
Thousands of people come to CMC seeking treatment for Cancer.
Many of them will continue to live healthy, happy lives for many years to come – thanks to the Expert Care given here at CMC.
You can help cancer patients just like Dhruv, A cancer survivour who would like to help others who cannot afford their treatment for cancer. (read his story here) We want to raise funds for patients who have cancer but can't afford treatment. Can you spread the word wider? We have partnered with the respected fundraising platform GiveIndia. With this, (GiveIndia fundraiser link) create your own fundraiser and share it widely through Facebook, Instagram and WhatsApp. Every rupee you raise will support the treatment of patients at CMC.
Every day we see and feel the result of Covid-19 around us. It has stopped us meeting with friends and family, going to school or being able to walk around freely. But some things haven't stopped – and one of these is cancer. CMC continues to care for those who are suffering from cancer and many other illnesses that keep on destroying lives. In these challenging times, we especially need your help for our cancer patients.
Baby Vishal's 1000km bike ride
Baby Vishal* is the joy of his parents. The family migrated for employment from their village in Tamil Nadu to a city near Mumbai. Early this year, baby Vishal fell sick with fever, diarrhea and vomiting. A local clinic couldn't help him. So they went to a big hospital in Mumbai and doctors gave them shocking news – it was blood cancer.
"I was shattered, our little innocent child has cancer"

wept his father.
The number of corona patients in Mumbai was rising, and they had no income. So the family decided to travel home for Vishal's treatment. But with the lockdown, there were no trains or buses.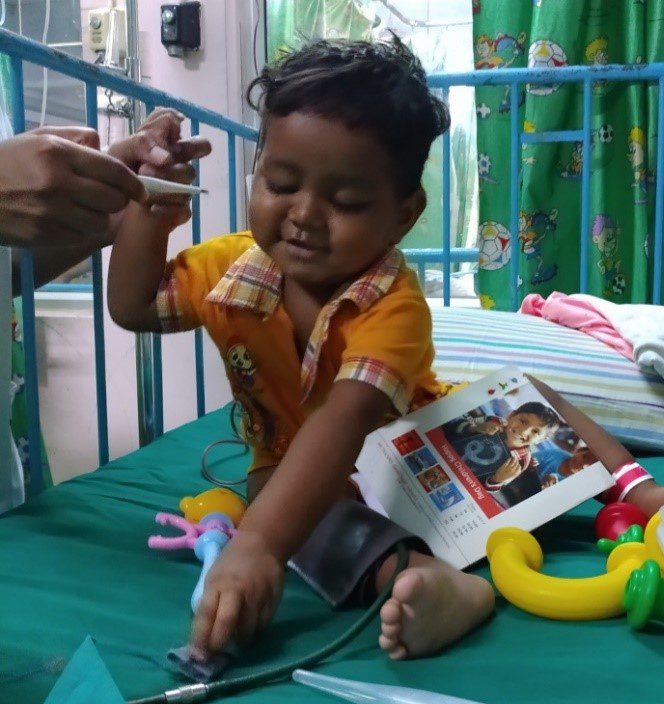 "We did not have money for an ambulance. So, we came back by motorbike. We didn't care if we died on the way, we wanted the best treatment for our child".

said his mother holding back her tears.
The three of them set out on the long journey. At night the family slept alongside the highway. And they survived on soaked rice and salt. They were exhausted when they reached home but were advised to go straight to Vellore.
CMC Care for Vishal
The caring Paediatric Oncology team was there to welcome Vishal. An immediate grant of Rs.1 lakh was given from CMC's Emergency Fund so they could begin chemotherapy immediately. But his treatment over the next three years will cost about ₹7 lakhs.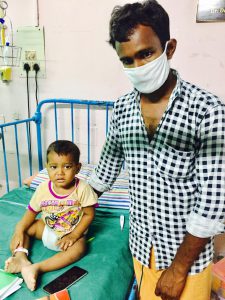 You can help Baby Vishal!
Support this family on their journey of healing. Click here to donate. Your gift, whatever the size, will help the family during this difficult time. If we receive more funds than what we need, it will be used for other children with cancer.
Thank you for your support!
Story contributed by Child Health. *Names changed
Please note: Gifts for the treatment of a specific patient do not qualify for income tax exemption under S.80G. Use the Donate button at the top of the page to donate for any patient with cancer, and your gift will be eligible for tax relief.
You can read other stories about patients with cancer here
---
How we Care for Cancer Patients
When you hear the word "CANCER", your heart sinks. It is a diagnosis most of us dread. But we can cure cancer. Here are some of the treatments that CMC uses to care for cancer patients.
---
Surgery
Surgery is used for many types of cancer. Raji Amma had colorectal cancer, a malignant tumour in the large bowel. This kind of cancer often needs surgery to cut out the cancer cells.
Breast cancer is one of the most common cancers in India. An operation may be done to cut out just the cancer lump (called a lumpectomy) but sometimes the whole breast has to be removed (mastectomy).
These cancer operations are usually done by specialists. CMC has many specialist surgery departments.
Radiotherapy
Radiotherapy, or radiation therapy, uses special radiation machines to give high dose Xrays to kill cancer cells. These give a much higher dose than ordinary Xray machines.
CMC has several advanced radiation machines. These focus the radiation on the cancer cells and cause less damage to healthy cells near the tumour. The patient gets less side effects.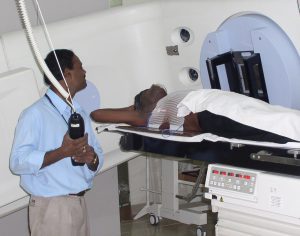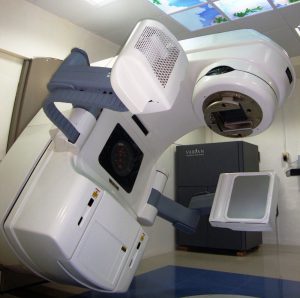 Patients usually have radiotherapy a few times a week for several weeks. Radiotherapy may also be given before or after surgery. Some people do not need radiotherapy at all.
The team plans the treatment in detail to make sure the radiation hits the exact spot where the cancer cells are. We train technicians to help with this work. See here for information on admission to the BSc. Radiotherapy Technology and other courses at CMC.
Chemotherapy
Chemotherapy uses strong medicines to kill the cancer cells. Sometimes the patient takes tablets. But often the medicines are given by an "intravenous infusion". The chemotherapy drug is "dripped' or infused through a tube into the vein.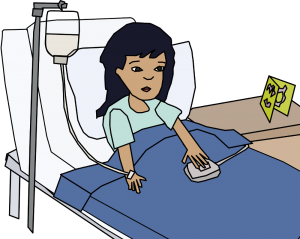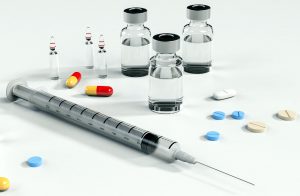 Chemotherapy can reach all the cells in the body. This is why it can make people feel quite unwell. Common side effects are nausea, vomiting, weight loss and some people lose their hair.
These side effects may be horrible. But the treatment can save lives.
Stem Cell and Bone Marrow Transplant
CMC also has a dedicated unit for stem cell treatment and bone marrow transplants. These transplants are used to cure blood cancers like leukemia, lymphoma, and multiple myeloma.
Home of a Healing God
This lovely video about CMC Vellore, from about 2009, has a section about bone marrow transplants. The numbers of patients and costs are out of date, but the video still has useful information in it.
Home of a Healing God: Christian Medical College Vellore. The section on bone marrow transplates starts at 1 min 50 seconds (1:50).
Read more about Stem Cell and Bone Marrow Transplant here
Palliative Care
Sadly, there are times when we cannot cure the cancer. Some people lose the battle and will die. Our aim is then to help the patient feel as comfortable as possible. Treatments, including surgery, radiotherapy and chemotherapy, can still make a big difference. Pain relief and taking care of other side effects like nausea are vital. CMC has a Palliative Care Department to care for people and their families when there is no cure.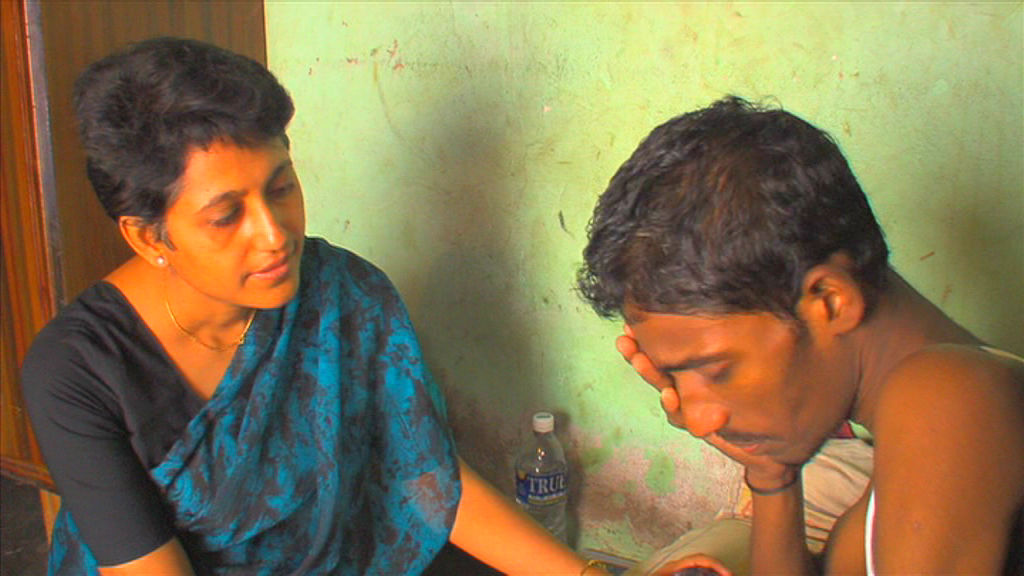 Kannigapuram Cancer Centre
The new campus at Kannigapuram, in Ranipet district on the main highway, will soon become the main centre for CMC's cancer care services. Radiotherapy, chemotherapy, stem cell treatment and some specialist surgery will move to this new hospital. However cancer treatment will still be available in the main hospital campus in Vellore.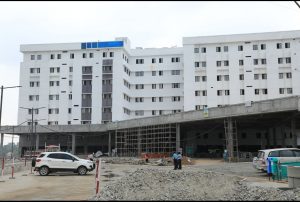 Words used in Cancer Treatment
Here is a link to some helpful videos that explain the words used in cancer treatment. The videos show the meaning of words like cancer, chemotherapy, infusion etc. Each video is less than one minute long.
Click to see videos on words used in Cancer treatment
Cancer Care and Cure: Training Healthcare Professionals
A large number of people can be a part of the team looking after someone with cancer. Some of the professionals include doctors, nurses, radiation therapy technicians, radiology technicians, physiotherapists, and more. We have undergraduate training for these professionals and postgraduate training for some of these specialties. You can download the CMC Vellore student prospectus below.