It's not how much we give, but how much love we put into giving – St. Theresa
In this festive season, we invite you to join our Christmas Giving Campaign. You can impact the lives of families seeking compassionate care at CMC Vellore. Many of our patients come from disadvantaged and marginalized backgrounds. Anitha & Karthik* are farmers from a small town near Vellore. Their baby was born at CMC's Community Health and Development (CHAD) Hospital in 2020. Anitha tells their story: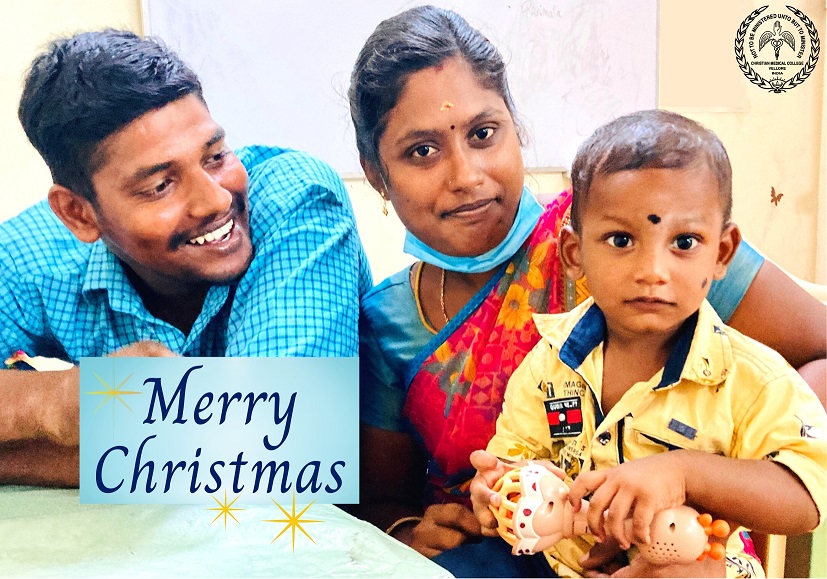 My second baby Arun* was born at CMC's CHAD Hospital and did not cry at birth. He had life-threatening complications. The lack of oxygen could damage his brain. He was immediately shifted to CMC's Neonatal ICU. After 72 hours of 'cooling therapy', he was out-of-danger and recovering. Those first few days were a blur. We got discharged and continued to bring Arun for regular follow up at CMC. Now, 18 months later, Arun is successfully achieving his childhood development milestones.
Every year, the Emergency Fund helps over 150 families like Anitha's. It runs solely through the support of generous individuals from all over the world. This year, our Christmas Giving Campaign aims to support 30 poor patients by raising ₹15 lakhs for the Emergency Fund. The average subsidy per patient is ₹50,000.
All contributions, small and big, will make a difference in the lives of people who need your help.Click here to join in today!
May the spirit of Christmas shine in your heart and light your path.
PS. CMC Vellore is one of the few hospitals in India offering this treatment for babies with birth asphyxia. The life-saving equipment is a gift from USAID/ASHA.
*Names changed. Picture and story used with consent. Contributed by the Department of Neonatology, CMC