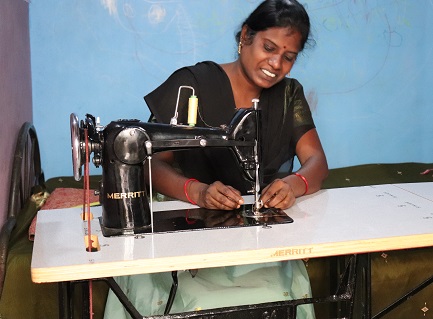 It was October 2020. Time was ticking fast for Suji*. Her husband was diagnosed with cancer in his mouth. For almost a year he was taken care by the Palliative Care Team at CMC Vellore. She knew by now her husband's days were numbered. Suji was only 37 years old. All her married life she and her four-year-old daughter depended on him. In spite of the uncertainty ahead, her priority at the time was to care for her dying husband. Before he passed away, he was full of regret that he could not provide enough for their little girl.
A little help goes a long way
The Palliative Care team knew Suji needed encouragement and resources to help her move on. Knowing she had done a few courses on tailoring and embroidery a long time ago, they offered her a sewing machine. Her passion was sparked to life as she began stitching clothes for her daughter and herself with some old sarees. Word got around and women in her neighborhood wanted her to stitch clothes for them too.
Suji says with gratitude, "People are surprised when they hear my story. They ask me, did CMC really give you this sewing machine? Aren't they a hospital? I tell them yes, they are! They not only helped when my husband was ill, they also helped me have hope in life."If you meet Suji, her eyes do not only tell the story of her pain but hope for the future. Today, along with stitching clothes she is trying to secure a commercial order. In the meantime she has worked under other tailors to learn and upgrade her skills. In the future she would like to have her own tailoring shop.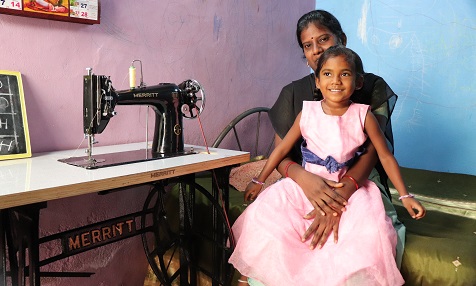 The Palliative Care unit has been able to give holistic care for Suji and many more like her with the support of donations and gifts from friends and well-wishers. You can help too!
*Name changed and photographs used with consent. Story and details contributed by the Palliative Care Unit