Beyond Healthcare
CMC's Low-Cost Effective Care Unit (LCECU) cares for disadvantaged people in the slums of Vellore. During the lockdown, our team found that many of their patients were struggling. The elderly, destitute and the very poor needed ready cooked food, not just dry provisions.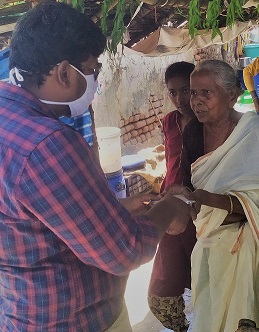 The Hope House (a local NGO) and Papa's House (a church) also wanted to help. Together, we were able to deliver 85 packed lunches every day from March 31st. After a few days, with help from the Thrupti Foundation and an alumnus group from Ida Scudder School, this was scaled up to 400 packets a day. Recently a group of young CMC doctors have joined the effort, preparing 30 more lunches a day.
As the lockdown progressed we could no longer deliver food to the slums. Where possible, we gave local volunteers money to buy provisions. They prepared a variety of simple meals in their community kitchens. At lunch time, young and old would come, bringing their tiffin boxes, to collect tasty hot food. Hope House and Papa's House continued to provide packed lunches which local volunteers would collect and distribute. At the peak we were feeding 600 people daily from the slum areas.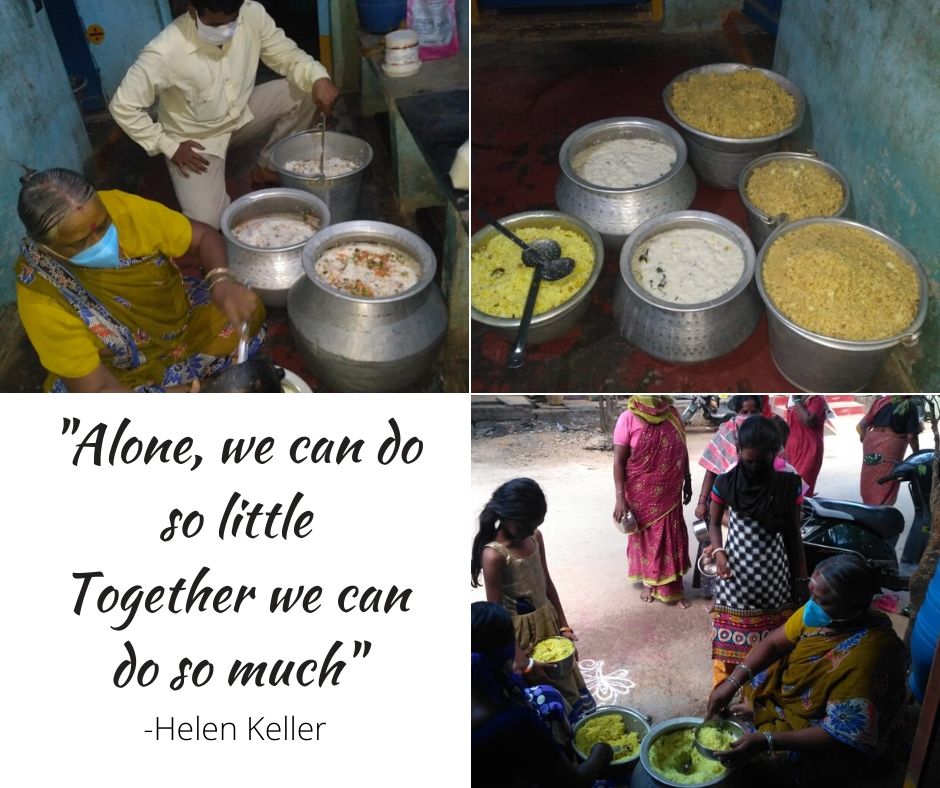 The team also organised medicines for elderly and disabled patients unable to visit LCECU, and delivered these to their homes.
It is amazing what can be done through partnerships, even in difficult times such as the Coronavirus pandemic. Working with many volunteers, donors and small organisations, LCECU touched hundreds of lives. Thank you for being part of the chain of love that allows us to care for marginalised communities and individuals.
Thank you for your support!
Details and pictures contributed by Low Cost Effective Care Unit
A 40-bedded facility housed in the Schell Eye campus in Vellore town and managed primarily by Family Medicine specialists, the Low Cost Effective Care Unit provides services to poor urban patients at affordable costs.
How LCECU works
Patients pay a one-time registration fee of Rs 25. Routine care attracts no consultation fee but medicines are paid for – often at subsidised cost. Costs are kept to a minimum in many ways. Patient counselling helps better self-management. Good history-taking and thorough physical examinations along with prudence in requesting tests and scans keep investigation costs down. The use of generic drugs and basic, no-frills infrastructure all help to reduce costs.
First-time patients are required to provide proof of residence and are screened subsequently by social workers. Patients may also be referred to LCECU by the social workers and by community health and urban health nurses in the College of Nursing's Community Health wing.
The LCECU is one of Christian Medical College's major responses to the poor living in Vellore city. It is a testament to CMC's commitment to the poor, disabled, disadvantaged, marginalised and vulnerable.
LCECU provides primary and secondary health care by Family and Community Health Physicians, at low cost to the residents of Vellore. They give direct referral links to the main CMC hospital when required. It is a unique model of true voluntary 'Social Responsibility' that CMC designed in the early 1980s.
How LCECU provides low-cost care:
1. There is minimal yet essential infrastructure.
2. Charts are maintained by patients themselves.
3. Family medicine approach and judicious use of investigations.
4. Limited yet essential 'gadgets' – eg. Ultrasound for antenatal care.
5. Staff multi-task.
6. Use of generic medicines.
7. Easy, free or subsidized access to specialists.
8. In-built subsidies for all and especially for those who cannot pay.
LCECU is also unique in its ability to do partial justice to holistic health care by intervening at the social level for many patients and their families.
Family Medicine Department in LCECU
Additionally, LCECU is where Family Medicine has been incubated in recent years (formerly it was in the Community Health Department) and we are proud that in 2008 the Family Medicine Department was established (1st in a medical college in India). The MD in Family Medicine was started in 2017 after years of effort by many in CMC.
Increasing services
Over the years, these services have been expanded by
broadening community mapping,
raising the number of outreach clinics,
school health programmes and
community-based rehabilitation of the disabled.
In partnership with the Department of Physical Medicine and Rehabilitation, the Project Helmet was initiated in 2014. Using half-day workshops among college students, this project sensitises the youth and young motorists about injury prevention and safe driving practices.