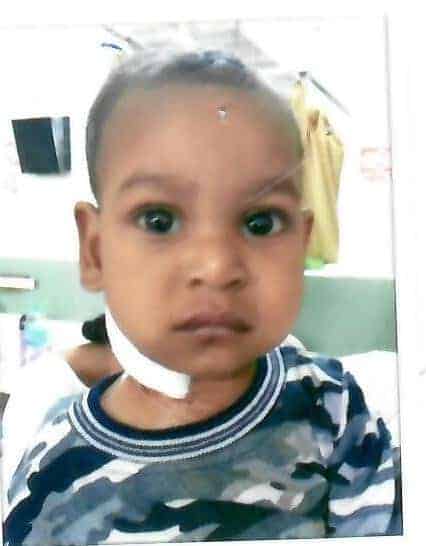 One-year old Shaheed*, from a small village in Jharkhand, had high fever for 15 days. His family noticed a swelling in front of his ears. They rushed him to a local doctor but the swellings kept growing. Finally, to their dismay, baby Shaheed had a blood test which showed something was seriously wrong. Doctors in Ranchi gave them some shocking news. His parents were devastated. "How can a fever turn out to be cancer?" they cried. They came to CMC Vellore, desperate to save Shaheed's life.
Shaheed was diagnosed with blood and bone marrow cancer (ALL). Chemotherapy was started at once. Scared of injections, the poor little boy holds on to his mother tightly. Through the pain, his family surrounds him with love – Shaheed is their only child. They have used up every last paisa to come to CMC. Our social workers helped them apply for grants to pay for Shaheed's treatment. They are able to stay for free in the St. Jude India Child Care Centre, Vellore. Right now Shaheed is stable and responding well to treatment. Please pray for him and his family.
Today is World Cancer Day. Reach out to anyone you know who has cancer, and give them a call or a hug. But cancer isn't a death sentence. Lakhs of people come to CMC seeking treatment for Cancer. The Haematology Department alone sees over 60,000 patients a year. With expert care lots of them will continue to live healthy, happy lives for many years to come.
Baby Shaheed's family could never have afforded his medicines, without support from friends like you. We need your help for hundreds more like him. Donate to CMC today!
Thank you for your support,
Hugh Skeil
Development Office, CMC Vellore
P.S. Read more about World Cancer Day https://www.worldcancerday.org/
Story contributed by the Department of Haematology
*name changed